Venue & Accommodation
Venue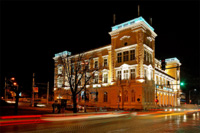 EWDSC 2015 is being held at:

Central Military Club
7 Tsar Osvoboditel Blvd.
Sofia 1000, Bulgaria

The Central Military Club is in the very centre of Sofia, and only a 30 minute drive from Sofia International Airport.
Travel Information
If travelling by car, the nearest parking areas are at Alexander Nevsky Square and Kniaz Alexander I Square. Please note however that spaces may be limited at peak times and a local parking fee may apply.
Only a limited number of previously approved diplomatic and government vehicles will be permitted to park at the Central Military Club itself. If you are in one of these categories and would like to enquire about parking at the venue, please contact us as early as possible.
The nearest Metro station is that of Sofia University and is only a 5 minute walk away. Please see the tube and street maps below. There is also easy access to the venue by other means of public transport or taxi.
Accommodation
EWDSC 2015 delegates with purchased attendance are entitled to receive special, preferential rates* at the following 5 star hotels, all in the centre of Sofia and within walking distance of the conference venue. For more information on each property, please click on the hotel of your choice.
Please note that our special rates are only applicable to persons who have also purchased a panel, day or conference pass for EWDSC 2015. You will be able to view these rates once you have completed your registration.
* As the rooms in each hotel are limited, reservations will be confirmed on a 'first come, first served' basis. If your preferred room and/or hotel is no longer available, we will endeavour to offer you the closest alternative. All reservations are subject to the hotels' full terms and conditions and all hotels reserve the right to refuse a reservation subject to their terms and conditions.
Venue & Accommodation Map